When we shop, everyone goes, thank goodness Sn@tch doesn't have any pet policy.
I had a great time fishing to get the latest Sn@tch Fish 4 This:"Westside OG."
What is Fish 4 This? Generally, every few weeks Sn@tch puts an array of items, to make a complete outfit (sometimes an array of themed grab bags!)into a 7Seas fishing set up. So you can stand and fish for free,no bait needed to get a complete outfit. I love the time spent there and do other things while sitting and waiting to get my set. The set is also available for sale if you just don't' have the time.
This set includes 22 pieces including the jacket with or without a top in eight colors, Omega applier shorts and stockings, skull boots, Moon Necklace (love it), Hair shown on the details picture in natural colors palette, and lipstick.
Almost EVERYTHING in my outfit is part of the current set. The only different thing is my hair. I am wearing a different hair than is available in the outfit cause I fell in LOVE with this short style from well Sn@tch! The 'do is called "Gwynn". I absolutely think it's a must for everyone's wardrobe. Super sassy. Come in all of Sn@tch's great color packs.
Get shopping and get your Sn@tch today!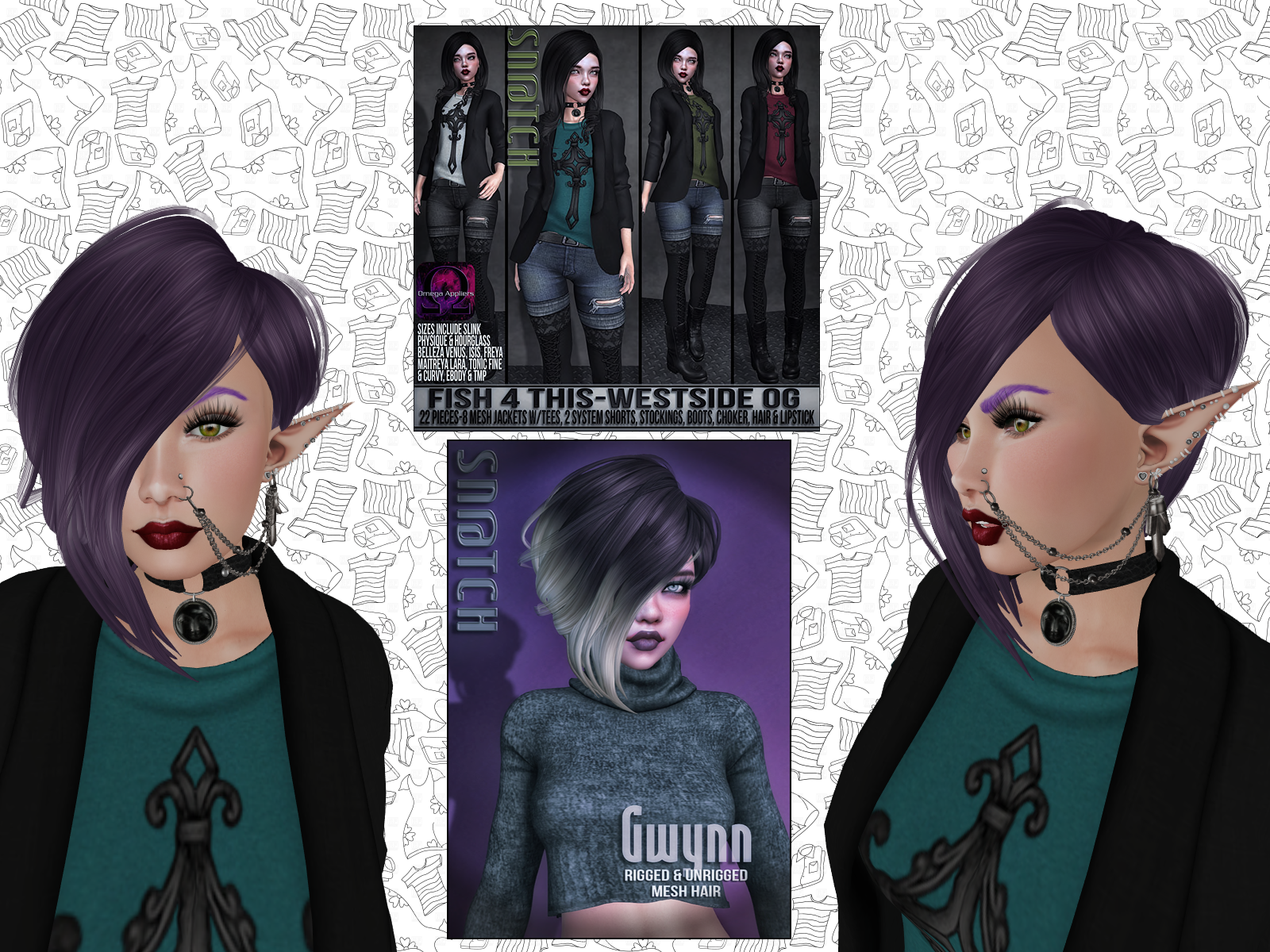 Body: Maitreya Lara
Shape: Sangi's Own Creation
Head: Catwa Jessica
Ears: ^^Swallow^^ Elf Ears
Skin and appliers: Paper Rabbit Willow and Cream Appliers
Eyebrows: #Adored siobhan brows – rainbow brite edition {catwa}
Hands: Vista Bento Hands Final Female
Feet: Slink Slink Avatar Enhancement Feet Deluxe V1.2.5
Jewelry: TABOU. Catch the Ice set B&W Pack
POSE: CHAT NOIR
Gacha Menagerie
Schadenfreude This Little Piggie Wiggie Went to Market RARE
MishMish – Kitties go to market – General
Alchemy – Rat Familiar – Patch – RARE (not avaiable)
JIAN Posh Pups :: RARE Carrier Purse